Question: What do these four images have in common?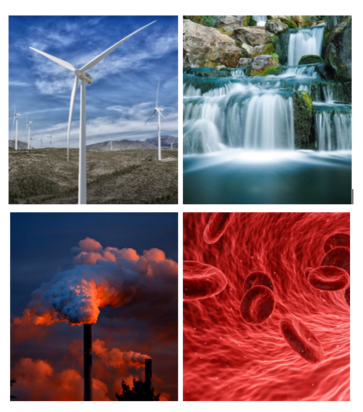 Hint: What do we call the air rotating a wind turbine, the water flowing down a waterfall, the vapour coming out of a stack, or the blood pumping through an artery?
Answer: They are all fluids!
We all have an intuitive understanding of a fluid – it's something that flows, like water or air. But what is the formal definition of a fluid?
Definition: A fluid is…
1. a substance that deforms under the action of shearing forces
2. unable to retain a certain shape if unsupported
3. assumed to behave as a continuum, i.e. not as separate objects
In other words, a fluid will flow if it experiences an external force (point #1), it takes the shape of its enclosing container (point #2), and it acts smoothly as a single entity without seeing the motion of individual molecules (point #3).
So why do we care about fluids? Quite simply, because they are all around us!
---
Applications
Can you think of 5 everyday systems that contain or use fluids, in addition to the four above?
Here are some possible answers, although there are many, many others: toilet, building ventilation, ink jet printer, refrigerator cooling, airplane lift, hoover, hydraulic brakes, river, water spouts, power dams, natural gas piping, etc.
In order to design and create processes and systems that control and use liquids and gases efficiently and safely, engineers need to be able to understand, describe, and predict fluid behaviour. This field of science is called fluid mechanics: the study of forces within liquids and gases when they are still (fluid statics) or moving (fluid dynamics).
We'll look at a fundamental principle that allows properties of a fluid to be calculated and we'll explore how it can help us understand everyday phenomena and apply it to practical situations. Download the resource activities to further explore this topic.